At a Glance
Description
Visit this website to learn more about the United States during the time of Tocqueville's landmark tour and book.
Producer
American Studies Program, University of Virginia
Democracy in America: Alexis de Tocqueville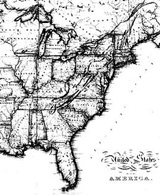 A product of the American Studies program at the University of Virginia, this site attempts to "construct a virtual American ca. 1831-32"—the period that Frenchman Alexis de Tocqueville visited the United States—in order to illuminate Democracy in America, his classic examination of political and social life in the young nation. The book is still regarded by some scholars as the greatest ever written about the United States.
The site presents a hypertext version of the book—one translation among many—accompanied by 13 projects on topics such as Tocqueville's sources and the 1840 Census, race relations, fashion, religion, women, art, navigation, and humor. These projects are uneven in quality, though a few—such as the navigation projects—provide useful primary material and worthwhile background texts. Overall, the character of the site seems somewhat ad hoc.