At a Glance
Description
Learn about Hiroshima and the history of nuclear warfare and non-proliferation through this website.
Website
Producer
Hiroshima Peace Memorial Museum
Hiroshima Peace Site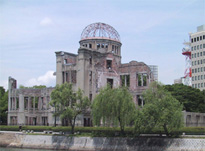 This is a somewhat random collection of material designed to inform visitors about the effects of atomic weapons on Hiroshima and Nagasaki and to encourage discussions about world peace. The Hiroshima City University Department of Computer Science produced the site, which is divided into twenty pages. Pages that address the effects of the bomb include interviews of 700 to 900 words with five survivors and a survey of attitudes of second-generation Hiroshima citizens and children towards the bombing. There are 13 images of objects in the Peace Memorial Museum and 12 photographs that portray the effects of the bomb on Hiroshima. A 600-word essay describes the bomb and its physical effects. Pages that focus on peace include a tour of Peace Park, messages from the Mayors of Hiroshima and Nagasaki, and the 19-page transcript of the Hiroshima Peace Forum, attended by Shimon Peres, Kenzaburo Ooe, and Takeshi Hiraoka. A bibliography provides titles for 37 books about the bomb and links to 30 other bomb related sites. Site may be useful for discussion of the cultural legacy of the bomb.