At a Glance
Description
Explore the political and sociocultural history of Connecticut.
Website
Producer
Connecticut Historical Society
Connecticut Historical Society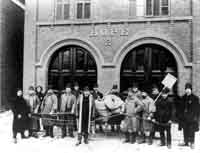 A nonprofit museum, library, and education center, the Connecticut Historical Society offers an abundance of resources through its website. Its collections document the cultural, social, political, economic, and military history of Connecticut.
Visit Online Exhibits to see resources the society currently offers online. As of July 10, 2012, the site features an exhibit on the department store G. Fox & Co., which operated in Hartford from 1847 until 1993. In Research, "Collection Highlights" features 25 artifacts pulled from the society's collections, ranging from Silly Putty to one of the flags that decorated Abraham Lincoln's box in Ford's Theatre on the day he was assassinated.
Educators will be most interested in three other resources found in Research:
The eMuseumfeatures more than 8,000 objects from the society's collections, including "clothing, furniture, weapons, needlework, tools, household objects, photographs, paintings, prints, drawings, and more." Visitors can search by keyword or by other categories, such as culture, date, and medium. Visitors can also browse specific collections, including "Connecticut Needlework: Women, Art, and Family, 1740-1840," "G. Fox & Co.," "Kellogg Brothers Lithographs," "Tavern and Inn Signs," "West End Architecture," and "Women Photographers."
Connecticut History Online offers more than 16,000 primary sources from Connecticut, searchable by keyword. Eleven "Journeys" introduce visitors to resources related to diversity, work and the workplace, daily life, the environment, and infrastructure. Each journey features photo essays made up of three or more images, tips for searching for related sources, and suggestions for further reading. "Classroom" provides lesson plans, classroom activities, and guidelines on using and citing primary sources and analyzing images.
Connecticut's Civil War Monuments features essays on monuments' purpose, designs, supplies and materials, artists and materials, and dedication ceremonies, and listings of Civil War monuments by location. Each listing includes a photo of the monument and its dedication date, type, supplier, donor, and height, as well as a brief summary of its historical and artistic significance, a description of the monument, and a transcription of its lettering.