At a Glance
Description
View the Virginia Historical Society's extensive collection of materials documenting Virginia history.
Website
Producer
Virginia Historical Society
Virginia Historical Society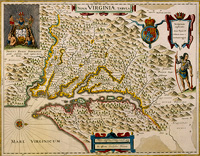 Since 1831, the Virginia Historical Society has been collecting materials documenting the lives of Virginians. This website provides information for researchers and the broader public interested in visiting the Society's headquarters in Richmond, including a collections catalog, finding guides to specific collections, and information about physical exhibitions. The website also includes significant digital holdings. While only five percent of the collection has been digitized, this represents more than 5,000 items, grouped into 14 digital collections. These collections include maps, drawings, paintings, postcards, prints and engravings, 19th century photography, as well as topical collections on African Americans, the Civil War, the Retreat Hospital in Richmond, Virginia's manufacturing of arms, the 1852 Virginia General Assembly Composite Portrait, the Reynolds Metal Company (forthcoming), the Garden Club of Virginia (forthcoming), and selections from the Society's ongoing exhibition, The Story of Virginia. The entire collections catalog is keyword searchable, and includes an option to limit the search to digitized materials.