At a Glance
Description
Explore the history of "the forest city."
Producer
Special Collections, Cleveland State University Library
Cleveland Digital Library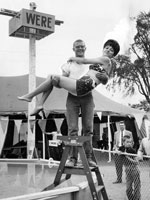 Featuring primarily maps, texts, and images, this gateway site is designed to be a resource for those interested in the history of the greater Cleveland area. The site includes approximately 35 journal articles (from journals such as the Saturday Evening Post) on the history of Cleveland, its newspapers, its railroads and industries, and a few prominent citizens; 36 digitized books; seven manuscript collections (three merely describe the contents of the collection, while four offer digitized resources); an audio file and a video file; two cartoon collections; and nine photograph collections, containing about 600 photographs. Although many of the collections are located on outside websites, visitors can access the collections by subject, date, geographic location, or format.
For educators, the site includes 20 lesson plans, under such categories as American Heritage and Democratic Process. The classroom activities are well-conceived; they feature problem solving and critical thinking exercises like the Mystery Photo Album, in which students attempt to figure out where in the Cleveland area historical photographs were taken, and By the Neck Until Dead, an e-book that details the history of Cuyahoga County, OH, hangings. The site also maintains a list of local history websites.