At a Glance
Description
Teaching Milwaukee state history, or looking to make a connection between art and social studies? Peruse more than 20,000 works of art in these online exhibitions.
Website
Producer
Milwaukee Art Museum
Milwaukee Art Museum Collections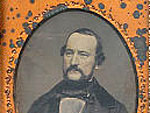 The Milwaukee Art Museum's collection includes more than 20,000 works of art ranging in date from antiquity to the present, and specializing in American decorative arts, German Expressionism, Haitian art, and American art after 1960. This website presents more than 200 pieces from the museum's collection. These works include paintings and sculptures, including several 20th-century works from Haiti; photographs, including Civil War-era portraits and masterpieces from the Great Depression era; prints and drawings primarily from French, Italian, German, and Flemish artists in the 17th-19th centuries; and a small collection of decorative arts, primarily furniture pieces from the early United States.
Beyond the website's Collection section, more artwork is on display in the Exhibitions section, which includes a selection of images from more than 25 current and past exhibitions. A highlight is the exhibit dedicated to the groundbreaking work of Milwaukee industrial designer Brooks Stevens. Here, visitors can view detailed images of some of his most famous designs, which include the Miller Brewing Company logo, the Evinrude outboard motor, and the Oscar Meyer Weinermobile.