At a Glance
Description
Invite young students into colonial history with the stories of children from three very different families.
Producer
Anne Arundel County Public Schools, Center for History Education (UMBC), and Historic London Town and Gardens
Children's Lives at Colonial London Town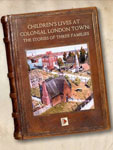 Children's Lives at Colonial London Town tells the stories of three 18th-century families who lived in the port town of London Town, MD. Funded by a Teaching American History (TAH) grant, Anne Arundel County Public School teachers created this interactive online storybook and complementary app in partnership with the Center for History Education at the University of Maryland, Baltimore County (UMBC) and Historic London Town and Gardens.
The storybook includes a three-chapter narrative exploring the lives of the Pierponts, a four-child, single-mother family running an ordinary (a public house) in 1709; the Hills, a middle-class young Quaker couple raising Mrs. Hill's five young siblings in 1739; and the Browns, 1762 tavernkeepers who owned several slaves, among them seven-year-old Jacob. Introductory sections explore the pre-colonial lives of Native peoples and the early days of colonization.
Each of more than 40 pages features images of primary sources, photographs of reenactors, and two to three paragraphs describing the everyday lives of these families. The stories look at how both parents and children (including enslaved children) ate, slept, dressed, worked, learned, played, and attended to their health. Questions throughout the text ask students to consider the information they read and develop questions about the past. Highlighted names and vocabulary invite readers to click to visit a glossary.
A slideshow gallery of images used in the storybook, an interactive map showing the locations of the three families' homes, and a timeline of events of both national and local London Town events from 1600 to 1800 support the storybook. Clicking on highlighted names and terms on the timeline takes visitors to related primary sources and articles off-site.
But how to use the storybook in the classroom? An Educators section orients teachers to the storybook and its supporting materials. A guide outlines the purpose and structure of the storybook, while the "Educator Resource" section offers more than 10 downloadable lesson plans and activities for 4th- through 5th-graders. Teachers can also review pre-reading and during-reading strategies for using the storybook, as well as strategies for writing prompted by it. Teachers can also follow links to sections of the Historic London Town and Gardens' website, including a 300-word introduction to London Town's history and information on London Town school tours.
To learn more about subjects covered in the storybook and to explore the sources that went into making it, see "Additional Websites and Places of Interest" for more than 25 links to websites focusing on Maryland, Virginia, Delaware, and Pennsylvania history and "Sources Used to Create This Book" for a bibliography of more than 30 books, primary sources, and websites.
A window into history tailored specifically for upper-elementary students, Children's Lives at Colonial London Town could make a compelling whiteboard read-along activity for teachers covering the colonial era. For students and teachers with smartphones and tablets, try the free app version and let students explore at their own pace.