At a Glance
Description
Texas educators, looking for primary resources on state history? Search this portal for thousands of images and documents drawn from Texas-based archival collections.
Website
Producer
University of North Texas Libraries
Portal to Texas History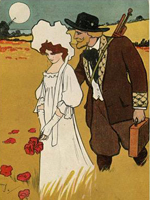 This archive offers a collection of more than 900,000 photographs, maps, letters, documents, books, artifacts, and other items relating to all aspects of Texas history, from prehistory through the 20th century. Subjects include agriculture, arts and crafts, education, immigration, military and war, places, science and technology, sports and recreation, architecture, business and economics, government and law, literature, people, religion, social life and customs, and the Texas landscape and nature. Some subjects include sub-categories. For instance, social life and customs, with 694 items, includes 13 sub-categories, such as clothing, families, food and cooking, homes, slavery, and travel. The visitor can also search the collection by keyword.
Resources for educators include seven "primary source adventures," divided into 4th- and 7th-grade levels, with lesson plans, preparatory resources, student worksheets, and PowerPoint slideshows. Subjects of the lessons include Cabeza de Vaca, Hood's Texas Brigade in the Civil War, life in the Civilian Conservation Corps, the journey of Coronado, the Mier Expedition, runaway slaves, the Shelby County Regulator Moderator war, and a comparison of Wichita and Comanche village life. This website offers useful resources for both researching and teaching the history of Texas.