At a Glance
Description
Aside from Benedict Arnold, how much do you know about Revolutionary War spies?
Producer
University of Michigan, Clements Library
Spy Letters of the American Revolution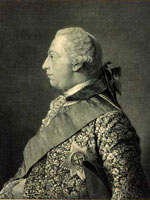 This site exhibits 12 facsimiles and transcriptions of spy letters from the American Revolution housed in the Sir Henry Clinton collection. Three inter-linked sections, "People," "Stories," and "Methods" provide context for each letter. A gallery of 19 men and three women, writers, readers, and subjects of the letters, includes 200-word biographical essays for each person and eight portraits. In "Stories," visitors will find 350-word descriptions of the significance of each letter. Methods of spying are described in six 150-word essays. A timeline coveres 1763 to 1783. The timeline is illustrated with 19 prints of people and places important in the revolution, and the site provides route maps for 11 of the letters.
The site's bibliography lists 25 books and one digital exhibit about the revolution and espionage. A "Teachers' Lounge" provides six assignments, 700 words on use of primary sources, 250 words on curricular themes that may be addressed using the site, and 25 study questions for students. The site is easy to navigate.