At a Glance
Description
Northwest educators—need some unconventional primary sources? Check out 65 moving images from 1915 through the 21st century.
Producer
University of Washington Digital Collections group
University of Washington Libraries: Moving Image Collection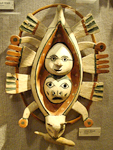 This website presents 65 moving images from 1915 through the 21st century. These include home movies, industrial films, news coverage, and documentaries, and cover a wide variety of topics, with a special focus on life in the Pacific Northwest and Alaska.
Several home videos capture the experience of attending the 1962 Seattle World's Fair—riding the monorail or looking at the Space Needle.
Visitors can also watch as U.S. Presidents made history in this region, including John F. Kennedy's groundbreaking of the N-reactor at Hanford Nuclear Reservation, and President Truman awarding the Congressional Medal of Honor to Bud Hawk.
A four-minute video captures a traditional Eskimo dance in Point Barrow, AK, in the early 1940s.
All movies can be browsed by year or by subject (e.g. trash, wildlife, workers, football, hiking, poverty, fisheries, laboratories, Rainier), and are keyword searchable.