At a Glance
Description
California educators, lead your students on an interactive journey down Los Angeles's historic Wilshire Boulevard!
Website
Producer
Los Angeles Conservancy
Curating the City: Wilshire Blvd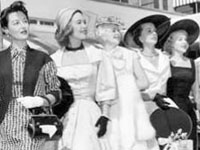 Wilshire Boulevard runs for 16 miles in Los Angeles, from Ocean Avenue in Santa Monica to Grand Avenue in Downtown. This website offers an interactive journey down the length of this historic street, with more than 100 stops at parks, buildings, and historic landmarks in Westwood/Brentwood, Beverley Hills, Miracle Mile/Carthay Circle, Windsor Square/Hancock Park, Wilshire Center, and the Parks District.
Virtual visitors to Palisades Park in Santa Monica, for example, can see 14 photographs and drawings of the park, spanning from the early 1900s, through the 1940s, and to contemporary photographs, and read a brief description of the park's history. Those interested in the history of architecture will find useful a website feature that allows users to filter all monuments by architect, style, and function. The website also includes a "Memory Book," allowing users to contribute their stories about Wilshire Boulevard and read the stories of others, as they talk about their favorite pizza restaurant in Westwood or their childhood in Beverly Hills in the early 1960s.