At a Glance
Description
What has the U.S. deaf population experienced?
Website
Producer
Jean L. Bergey, Gallaudet University
History Through Deaf Eyes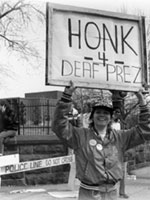 An exhibit of 60 images, mostly photographs, and a 2,500-word essay that presents a social history of deaf community life in the U.S. from the early 19th century to the present. Covers education, the development of American Sign Language, the "silent press," deaf people in the workplace, media portrayals, deaf clubs, activism, and technological developments. Also includes material on a few historical figures such as the Reverend Thomas Hopkins Gallaudet and Alexander Graham Bell. Hosted by the National Deaf Life Museum, the website also has links to educational resources and the Through Deaf Eyes documentary film produced by Florentine Films/Hott Productions and WETA, Washington, DC, in association with Gallaudet University. A solid introduction to the history of deaf people in America.