At a Glance
Description
This collection of social dance manuals showcases the social history of Europe and America.
Producer
American Memory, Library of Congress
An American Ballroom Companion: Dance Instruction Manuals, ca. 1490-1920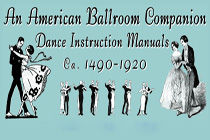 Features more than 200 "social dance manuals" and related materials in western dance history, from Burgundian dances of the Late Middle Ages to Ragtime dances in vogue between 1890 and World War I. The site offers a rich selection of manuals--including the rare document, Les basses danses de Marguerite d'Autriche, published around 490--as well as histories, theoretical studies, treatises on etiquette, antidance literature, and other items. Designed to "illuminate the manner in which people have joyfully expressed themselves as they dance for and with one another," the site also provides a 13,000-word introductory essay, "Western Social Dance: An Overview of the Collection," which is illustrated with 44 images, 75 video clips demonstrating selected dances from the manuals, and a bibliography of 77 titles. A well-organized presentation that will interest students of dance and of the cultural history of Europe and the U.S.