At a Glance
Description
See how the federal government promoted nationalism in a widespread media movement.
Producer
Smithsonian Institution, National Museum of American History
July 1942: United We Stand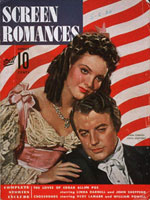 Presents an exhibit on the "United We Stand" campaign of July 1942, a collaboration of the National Publishers Association and the Treasury Department in which approximately 500 magazine publications carried images of the American flag on their covers. The intent of the campaign was to raise public morale and stimulate the sale of war bonds during a time of national anxiety concerning the course World War II had taken. The exhibit includes nearly 300 covers along with a photo-narrative that addresses the history of the campaign and selected aspects of cover design issues. The exhibit also makes an effort to draw parallels to the recent nationwide display of the flag following the September 11th attacks.
Magazine covers are searchable according to subject, title, and keyword. The site includes a 19-title bibliography. Useful for those studying propaganda efforts, the history of business-government wartime collaboration, homefront nationalism, and the history of the magazine publishing industry.