At a Glance
Description
Get to know Benjamin Franklin through his own writings, cartoons, and letters.
Producer
Library of Congress
Benjamin Franklin: In His Own Words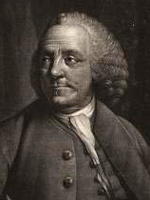 This exhibition "indicates the depth and breadth of Franklin's public, professional, and scientific accomplishments," offering documents, letters, books, broadsides, and cartoons. Eight sections exploring periods or aspects of Franklin's life are focused around items from the Library's collections with accompanying explanatory text.
Topics include Franklin's role in events prior to the Revolution, his role in the Continental Congress, his role as a diplomat in Paris and in negotiating the Treaty of Paris, his role in the early republic as President of Pennsylvania and delegate to the Constitutional Convention, his life as a scientist and inventor, and his activities as a printer and writer. There are more than 60 documents and other items available in the exhibition. There is also a Benjamin Franklin chronology from 1706 to 1790, a bibliography with 11 books and seven books for young readers, and four links to related websites. A good starting point for researching Franklin's life or the political and diplomatic history of colonial America or the early United States.