At a Glance
Description
This database of images literally offers snapshots of late 19th to early 20th century America.
Producer
American Memory, Library of Congress
Touring Turn-of-the-Century America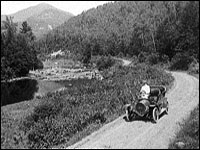 The Detroit Publishing Company mass produced photographic images—especially color postcards, prints, and albums—for the American market from the late 1890s to 1924. This collection offers more than 25,000 glass negatives and transparencies and about 300 color photolithographs from this company. It also includes images taken prior to the company's formation by landscape photographer William Henry Jackson, who became the company's president in 1898. Jackson's work documenting western sites influenced the conservation movement. Although many images were taken in eastern locations, other areas of the U.S., the Americas, and Europe are represented. The collection specializes in views of buildings, streets, colleges, universities, natural landmarks, and resorts, as well as copies of paintings. Nearly 300 photographs were taken in Cuba during the Spanish-American War. About 900 Mammoth Plate Photographs include views of Hopi peoples and their crafts and landscapes along several railroad lines in the 1880s and 1890s.