At a Glance
Description
Official documents and articles from periodicals record the history of the Olympics and sport.
Producer
Amateur Athletic Foundation of Los Angeles
Amateur Athletic Foundation Digital Archive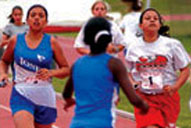 For those studying the history of the Olympics, sports history, and the history of leisure and recreation, this website provides more than 45,000 documents (in .pdf format) pertaining to official Olympics history as well as other sports. Complete or partial runs of 10 journals have been digitized, including Journal of Sports History (3,030 articles from 1974–2003), Olympic Review (1901–2003), Baseball Magazine (1909–1918), American Golfer (1908–1911), Golf Illustrated and Outdoor Man (1914–1915), and Outing (1883–1899).
The site also furnishes 58 oral histories of Southern California Olympic athletes and 83 official Olympic Reports from 1896 to 2004. The full text of This Great Symbol: Pierre de Coubertin and the Origins of the Modern Olympic Games by John MacAloon and some recent studies of aspects of sports history are also available. Additions to the site are made regularly.