At a Glance
Description
Reproduces a privately held collection of American ephemeral films produced between 1927 and 1987.
Producer
Rick Prelinger, Prelinger Archives and Internet Archive
Internet Moving Images Archive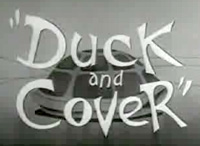 These resources come from a privately held collection of 20th-century American ephemeral films, produced for specific purposes and not intended for long-term survival. The website contains nearly 2,000 high-quality digital video files documenting various aspects of 20th-century American culture, society, leisure, history, industry, technology, and landscape. It includes films produced between 1927 and 1987 by and for U.S. corporations, nonprofit organizations, trade associations, community and interest groups, and educational institutions. More than 80 films address Cold War issues.
Films depict ordinary people in normal daily activities such as working, dishwashing, driving, and learning proper behavior, in addition to treating such subjects as education, health, immigration, nuclear energy, social issues, and religion. The site contains an index of 403 categories. This is an important source for studying business history, advertising, cinema studies, the Cold War, and 20th-century American cultural history.