At a Glance
Description
Ever wanted to be Sherlock Holmes? Look at history the way a detective looks into crime.
Producer
The College of William and Mary, Library of Congress, University of Kentucky
HSI: Historical Scene Investigation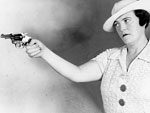 HSI was created in order to facilitate the use of primary sources in history education. By using the concept of historians as detectives, the site has collected several "cases" for students to examine using a pre-vetted set of related primary sources. The site describes the HSI model as having four steps:
Becoming a Detective—basic context and introduction of an overarching question
Investigating the Evidence—examining primary sources
Searching for Clues—answering questions which organize analysis of primary sources
Cracking the Case—presentation of an evidence-based conclusion and questions formed by the investigation
Site navigation is not as intuitive as it could be. Be prepared to use the "back" button frequently. That quibble aside, the site offers a good variety of cases—the March on Frankfurt, children in the Civil War, refusal to attend the Constitutional Convention, slavery in Virginia, school desegregation, the Boston Massacre, the demise of Jamestown, the dropping of the bomb on Japan, Elvis and Nixon's meeting, a genealogy case, the Battle of Lexington and Concord, and Nathaniel Bacon. There is also a fictional murder/cause-of-death case which can be used to introduce students to the process and way of thinking which each of the historical cases requires.