At a Glance
Description
Learn about ranching culture and everyday life in northern Nevada's Paradise Valley.
Producer
American Memory, Library of Congress
Buckaroos in Paradise: Ranching Culture in Northern Nevada, 1945-1982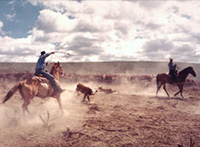 An examination of the life and work of cowboys (or "buckaroos") in the ranching community of Paradise Valley in northern Nevada, with a focus on the "family-run" Ninety-Six Ranch, a concern dating back to the mid-19th century. Features 42 motion pictures and 28 sound recordings of the Ranch, and approximately 2,400 photographs documenting "the people, sites, and traditions in the larger community of Paradise Valley, home to persons of Northern Paiute Indian, Anglo-American, Italian, German, Basque, Swiss, and Chinese heritage." Created for the most part with materials produced during a 1978-1982 ethnographic field research project by the Library of Congress' American Folklife Center. Includes a 2,500-word history of the Ninety-Six Ranch; a 15,000-word essay on ranching life by the project director, Howard W. "Rusty" Marshall; an extensive glossary of terms; four maps of the region; and a bibliography consisting of 60 entries. A well-designed site that introduces users to many aspects of ranch life and culture.