At a Glance
Description
See Pittsburgh, PA, the way it appeared as early as the 1890s.
Website
Producer
Archives Service Center and Digital Research Library, University of Pittsburgh
Pittsburgh City Photographer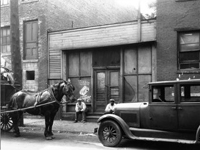 This photographic archive contains more than 1,500 images commissioned by the Pittsburgh Department of Public Works, Division of Photography, from c1890 through 1973. "The images show Pittsburgh parks, recreation facilities, and athletic events as well as hospital exteriors and interiors, mayoral events, traffic situations, and general street scenes."
The image collection emphasizes interior and exterior photographs of familiar and historic buildings and "interesting depictions of home life, and the famous and not so famous people of Pittsburgh." Each image is accompanied by bibliographic and descriptive information. The archive can be searched by image title, date, creator, location, address, description, or subject. A useful resource for those interested in urban development, city life, and architecture.