At a Glance
Description
A collection of Soviet archival documents which take visitors inside the highest levels of the Soviet Government.
Producer
Library of Congress
Cold War: Postwar Estrangement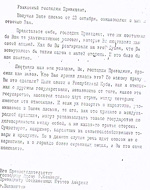 One "showcase" within a multi-part exhibit that presents Soviet archival documents, this site offers three items related to Cold War politics and ideology: a 1945 telegram from Stalin to Harry Truman; a 1971 document from the Communist party's Central Committee, "Additional Measures To Expose Imperialist Policies"; and a 1962 telegram from Khrushchev to John Kennedy protesting American policy in Cuba.
The documents, available as both untranslated images and translated texts, are accompanied by a useful introduction of 1,036 words.
Visitors should consider using the site's "guided tour," which incorporates these materials within the larger exhibit.