At a Glance
Description
10,000 pages of records on the struggle for votes for women, including papers by Elizabeth Cady Stanton and Susan B. Anthony.
Producer
American Memory, Library of Congress
Votes for Women: Selections from the NAWSA, 1848-1921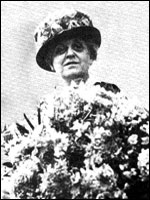 Covering the years from 1848 to 1921, this website presents materials from the suffrage movement in America, including 167 books, pamphlets, handbooks, reports, speeches, and other artifacts totaling some 10,000 pages. Formed in 1890 from two rival groups, the National American Woman Suffrage Association (NAWSA) orchestrated passage of the 19th Amendment in 1920 through state campaigns. Materials include works by Carrie Chapman Catt, the Association's longtime president, as well as from other officers and members, including Elizabeth Cady Stanton, Susan B. Anthony, Lucy Stone, Alice Stone Blackwell, Julia Ward Howe, Elizabeth Smith Miller, and Mary A. Livermore. There are two bibliographies, an essay on Catt, a timeline, and links to 18 related collections, most of them associated with the Library of Congress American Memory.