At a Glance
Description
Which ethnic groups have made their homes in the Columbia River Basin?
Producer
Columbia River Ethnic History Project
Columbia River Basin Ethnic History Archive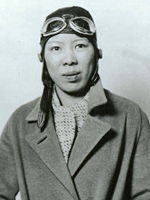 This site offers a large archive of selected documents, reports, records, maps, photographs, newspapers, artifacts, and oral history interviews. Items are searchable by ethnic group, keyword, archive, type of material, date, or subject. Brief historical overviews and bibliographies for each ethnic group profiled are also available in the archive section. Another section has lessons plans for teachers on African Americans, immigration and settlement, migration, and ethnic culture and identity, 1850-1950. It also offers tutorials on using the archive, using history databases on the web, interpreting photographs, interpreting documents, and interpreting oral history. Historical overviews are provided on the various ethnic groups that settled the Columbia River Basin.
A discussion forum offers a place to talk about discoveries in the archive or questions. Topics currently include ethnic groups, ethnicity and race, work and labor, immigration and migration, family life, religion, social conditions, discrimination, and civil rights. A very useful site for researching or teaching the social and cultural history of the Columbia River Basin.