At a Glance
Description
An excellent introduction to the papers of George Washington, including personal correspondence and maps.
Website
Producer
Christine Madrid French, University of Virginia
The Papers of George Washington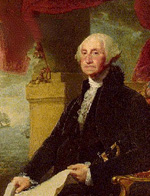 Sponsored by the Papers of George Washington, housed at the Alderman Library, University of Virginia, this is a companion site to the ambitious project of collecting, editing, and publishing Washington's papers. Begun in 1969, the project has completed 44 of a projected 90 volumes of papers. The site gives information on the letterpress editions of Washington's papers and provides some online excerpts from the volumes. The "Maps and Images" section offers ten of Washington's maps and sketches and nine images of George and Martha Washington, family members, and Mt. Vernon, their home. The "Documents and Articles" section features 31 primary documents, including Washington's 1796 Farewell Address and his last will and testament. It also provides links to 21 full-text scholarly articles on Washington's life and political and military careers. An index of names of persons identified in the papers, along with the volume and page numbers on which the names appear is uesful for researchers. As a special feature, the site also provides full-text images of Washington's handwritten notations to the Constitutional Convention's draft of the Constitution. This site provides a good introduction into the papers of one of the United States' Founders.