At a Glance
Description
Did you know that Micronesia was once a U.N. trusteeship administered by the United States?
Producer
University of Hawaii Library
Trust Territory of the Pacific Islands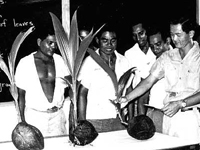 This website offers more than 50,000 slides and photographs that document the history of the American period in Micronesia from 1947 to 1988. The image collection can be browsed or the visitor can sample the types of images in the collection through 12 short animated image tours. The topics of the image tours give an idea of the variety of images available in the collection: parades, dancing, voting, agriculture, stone money, canoes, architecture, women, leaders, education and children, health and hospitals, and men. The only search capability on the site is a Google search of the photograph description files. Additional resources include a map of Oceania and a link to the Hawaii War Records Archive. This archive is a useful source of images for those researching, writing, or teaching the cultural history of the Pacific Islands.