At a Glance
Description
What was life like for the African American pilots of World War II?
Producer
National Air and Space Museum, Smithsonian Institution
Black Wings: African American Pioneer Aviators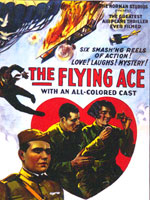 Approximately 75 items that tell the story of pioneering African American flyers, their contributions to the World War II effort, and racial discrimination they suffered. The site is arranged into four sections containing narratives of approximately 350 words each with hyperlinks leading to related images, mostly photographs. The exhibit also includes reproductions of posters, newspaper articles, insignias, advertisements, personal accounts, government documents, and letters. Searchable by keyword, decade, exhibit section, media, or name of plane. The reproduction quality of some of the items is poor; several newspaper articles are so blurred they are virtually unreadable.
Includes two lesson plans for grades 5-12, links to nine related sites, and an 11-title bibliography. The site will provide students with a brief introduction to an often neglected aspect of African American and aviation history.