At a Glance
Description
View maps of Liberia acquired during efforts to restore freedmen to Africa.
Producer
American Memory, Library of Congress
American Colonization Society Collection: Maps of Liberia, 1830-1870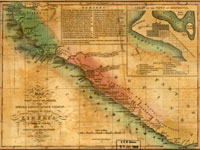 A collection of 20 maps of Liberia produced or acquired by the American Colonization Society (ACS) in their efforts to settle free black Americans in West Africa. These maps show natural features on the west coast of Africa and locations of native peoples, colonist towns, and mission stations. The collection includes two maps made in 1868-69 by African-American explorer Benjamin Anderson. Users can zoom in to view map details. A "Time Line: History of Liberia" includes a 2,500 word essay with three photographs of Liberian presidents Joseph Jenkins Roberts and James Skivring and Roberts' wife Jane; links to 13 related documents; and a nine-title bibliography.