At a Glance
Description
Explore the archives of the Chicago Historical Society to learn about Lincoln's assassination through objects.
Producer
Chicago Historical Society and Academic Technologies at Northwestern University
Wet With Blood: The Investigation of Mary Todd Lincoln's Cloak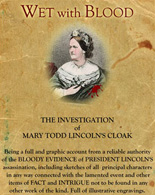 Visitors to this site are invited to learn about the assassination of Abraham Lincoln primarily through artifacts and relics in the collection of the Chicago Historical Society. More than 100 images of artifacts, documents, photographs, and lithographs, in addition to more than 50 quotes from contemporary testimonies, illustrate how examination of a variety of types of evidence can help to illuminate events from the past. In addition, the site presents the story of Charles Gunther, a Chicago confectioner who purchased a Richmond prisoner-of-war camp and reconstructed it in Chicago in order to display his growing collection of Americana, which the Society acquired upon his death. The site also includes two videos on techniques of examining material evidence; audio recordings of tunes from the period and a musical tribute to Lincoln that was performed at his Chicago funeral; a registry of 29 Lincoln relics in the Society's collection; a glossary of 11 technical and historical terms; a bibliography of more than 130 published sources; listings for 28 related sites; and a virtual tour of the Society's Conservation Laboratory. Of interest to students of the Lincoln assassination, the history of museums and Americana collectors, and to those intrigued by the use of material culture to help answer questions about the past.