At a Glance
Description
If you need primary sources on the Spanish in North America, try this site.
Producer
Library of Congress
Spain, The United States, and The American Frontier: Historias Paralelas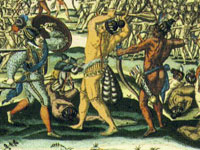 This collection of primary and secondary sources explores the history of Spanish expansion into North America from Florida, Georgia, and the Carolinas; across the modern-day American West; and north to Alaska. There are more than 200 primary sources, including numerous texts, 118 maps, manuscripts, and first-hand accounts, all written between 1492 and 1898. Some of the highlights include La Florida del Inca, an account of the Hernando de Soto expedition through Florida and the southeastern part of North America, along with the Notes of a Military Reconnaissance from Fort Leavenworth to San Diego, published in 1848 as a special report to the United States Congress. All documents are available in English and many of the documents are available in Spanish, as well. The collection is searchable by keyword and title and can be browsed. These documents are valuable for understanding Spanish-North American interaction.