At a Glance
Description
Provides links, primary sources, and eight modules for teachers and students in three main features: WWW.History, Many Pasts, and Making Sense of Evidence.
Website
Producer
Roy Rosenzweig Center for History and New Media and American Social History Project/CML
History Matters: The U.S. Survey Course on the Web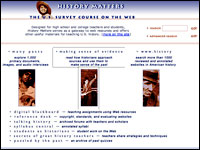 Providing a host of resources on U.S. history survey, the three main features are: WWW.History, Many Pasts, and Making Sense of Evidence.
WWW.History provides an annotated guide to more than 1,000 high-quality websites covering all of U.S. history. Users can browse websites by time period or topic and can search by keyword.
Many Pasts offers more than 1,000 primary sources in text, image, and audio, from an exchange between Powhatan and Captain John Smith to comments by the director of the Arab American Family Support Center in Brooklyn after the September 11, 2001, terrorist attacks.
Making Sense of Evidence offers eight guides with interactive exercises designed to help students learn to analyze various kinds of primary sources, including maps, early film, oral history, and popular song. These guides offer questions to ask and provide examples of how to analyze kinds of evidence. There are also eight multimedia modules that model strategies for analyzing primary sources, including political cartoons, blues, and abolitionist speeches.