At a Glance
Description
Explore California from Japanese American internment or the Free Speech Movement to oral histories.
Website
Producer
University of California
Online Archive of California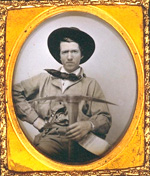 This archive provides more than 81,000 images and 1,000 texts on the history and culture of California. Images may be searched by keyword or browsed according to six categories: history, nature, people, places, society, and technology. Topics include exploration, Native Americans, gold rushes, and California events.
Three collections of texts are also available. Japanese American Relocation Digital Archive furnishes 309 documents and 67 oral histories. Free Speech Movement: Student Protest, U.C. Berkeley, 1964–1965 provides 541 documents, including books, letters, press releases, oral histories, photographs, and trial transcripts.
UC Berkeley Regional Oral History Office offers full-text transcripts of 139 interviews organized into 14 topics including agriculture, arts, California government, society and family life, wine industry, disability rights, Earl Warren, Jewish community leaders, medicine (including AIDS), suffragists, and UC Black alumni.