At a Glance
Description
Read the life histories of a range of U.S. citizens, compiled by the WPA's Federal Writers' Project.
Producer
American Memory, Library of Congress
Manuscripts from the Federal Writers' Project, 1936-1940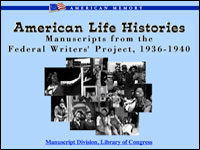 Close to 3,000 life histories from 1936–1940, compiled and transcribed by the staff of the Folklore Project, are presented here. They are part of the Federal Writers' Project for the U.S. Works Progress (later Work Projects) Administration (WPA). Documents represent the work of more than 300 writers from 24 states. The histories, usually between 2,000 and 15,000 words in length, take the form of narratives, dialogs, reports, and case histories. Drafts and revisions are included. A typical history may offer information on family life, education, income, occupation, political views, religion, mores, medical needs, diet, and observations on society and culture.
"Voices from the Thirties," illustrated with photographs of the project's staff at work, interviewees, and their environment, provides contextual information on the creation of the collection. This multifaceted site offers firsthand accounts on subjects such as slavery, 19th-century American folk cultures, and the social history of the Great Depression.