At a Glance
Description
What roles have Jewish women played in the Second Wave of feminism?
Producer
Jewish Women's Archive
Jewish Women and the Feminist Revolution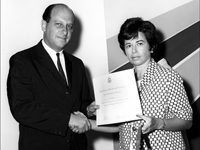 This exhibit explores the contributions of Jewish women in Feminism's "Second Wave" during which Jewish women helped work "to transform American society and Jewish life in America." It offers a collection of images, a timeline, and six thematic essays. The interactive timeline using the exhibit images allows the visitor to follow the role of Jewish women in the resurgence of the feminist movement from the 1960s through the end of the 20th century. The thematic essays—"Foremothers," "From Silence to Voice," "Setting the Feminist Agenda," "The Personal is Political," "Feminism is Judaism," and "Confronting Power"—combine images, audio clips, and statements from prominent Jewish feminists, as well as short biographies of the feminists. The visitor can search the entire collection of more than 90 objects and stories from Jewish feminists used in the essays or browse the collection by person, format, topic, or date. A useful resource for researching Jewish women or the history of the feminist movement.