At a Glance
Description
Travel through the life and works of Marion Anderson with this online exhibit.
Producer
Nancy M. Shawcross, Curator, University of Pennsylvania
Marian Anderson: A Life in Song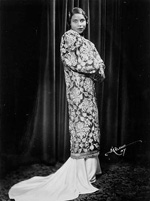 Created by the staff of the Annenberg Rare Book and Manuscript Library at the University of Pennsylvania, this exhibit traces the life and musical career of African American contralto Marian Anderson. Anderson broke the race barrier when she came to prominence in the 1930s and 1940s. The materials are drawn from Anderson's personal papers, which she donated to the University of Pennsylvania in 1993. The exhibit is presented chronologically in 10 sections that explore Anderson's birth in Philadelphia, her education and musical training, and her career and humanitarian efforts toward improving African Americans' opportunities.
The site contains more than 30 audio and six video excerpts from performances and interviews, over 50 images, with approximately 100-word explanatory captions, illustrating Anderson's life and work. This exhibit is ideal for researching African American history and the history of the performing arts in America.