At a Glance
Description
The mail always comes, rain or shine; but how?
Website
Producer
Smithsonian Institution
National Postal Museum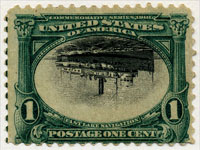 Divided into six galleries, this website features 21 online exhibits. The first gallery, Binding the Nation, includes six exhibits such as "The Post and the Press" and "Moving West" which explains how the postal service contracted with stagecoach lines to transport mail across the frontier. The second gallery, Customers and Communities, uses a series of exhibits to examine the development of mail delivery to the growing urban and rural populations in the 20th century. For example, through a virtual tour of the "Mail by Rail," visitors learn about the revolutionary Railway Mail Service. Moving the Mail is the third gallery, with three exhibits, and Art of Cards and Letters, the fourth gallery, spotlights the important role mail has held as a medium for personal communications, including "Undercover: The Evolution of the American Envelope." The fifth gallery, Artistic License comprises six exhibits; and the last, the Philatelic Gallery, includes exhibits entitled "Rarities Vault" and "Inverts." This gallery also features changing exhibits featuring special objects from both the Museum and private collections, including an online version of "Mail to the Chief," a collection of original drawings by Franklin Roosevelt of the many stamps he designed.
There are also two research guides online for the Benjamin B. Lipsner Airmail Collection and for the 1847 Federal Postage Stamp Correspondence. An Activity Zone offers materials for young students and free downloadable curriculum guides (grades K through college level) are available for teachers. The 24 online articles from EnRoute, the National Postal Museum's membership magazine, complete this rich site.