At a Glance
Description
Learn about labor politics and economics throughout American history.
Producer
Illinois Labor History Society
A Curriculum of United States Labor History for Teachers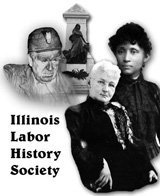 This curriculum addresses labor politics and economics from the colonial period to the present day. Conceived and written by James D. Brown, Jr, "in cooperation with teachers from the metro Chicago area and local union members," it is divided into 11 chronological sections, each comprised of several elements: a 100–200-word overview; an inventory of major themes, episodes, and concepts; and a feature entitled "Integrating Labor History into Effective Teaching of the Period." This last portion recommends questions and lessons for students, and, for several sections, provides primary source materials. Thus "The Growth of a New Nation" outlines a lesson that asks students to compare Thomas Jefferson's Declaration of Independence with an 1829 essay by George H. Evans—a founder of New York's Working Man's Party—entitled "The Working Men's Declaration of Independence."
The 11 sections emphasize gains achieved by organized labor and invite teachers to "highlight the stark contrast between today's working environment and the relationship between workers and owners of the past." Includes a list of 44 "Significant People in America's Labor History"; a 16-title bibliography; a link to an international news desk providing daily stories dealing with labor groups and issues; and additional material on Illinois labor history.
Some sections of the curriculum are thinner than others. More curiously, the site does not furnish any primary documents from the 20th century, and generally relies more on lists of events and issues than the sort of narrative prose that can enliven the past.