At a Glance
Description
The companion site to a PBS documentary, this website is a useful resource for scholars of the American Revolution.
Website
Liberty! The American Revolution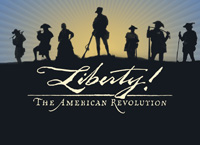 Sponsored by Norwest Corporation, this is the companion site to the 1997 PBS documentary series Liberty: The American Revolution. The site is divided into four categories. "The Chronicle of the Revolution" provides six descriptions of key events during the Revolutionary era, such as the Boston Tea Party and the Battle of Saratoga. Also offers a timeline of the Revolution and links to descriptions of related topics, a bibliography of 29 scholarly works on the Revolutionary period, and links to 45 other sites of interest. "Perspectives on Liberty" is a creative section that provides images linked to information about related places or objects. For example, a painting of a farmhouse provides information on everyday life in Revolutionary America. "Liberty, the Series" provides episode descriptions, text interviews on the making of the series, and brief, 25-word biographies of the scholars involved in creating the series. Finally, "The Road to Revolution" is an interactive trivia game with audio of specific people, speeches, and events. There are 15 images and 2 maps in this section. This site is ideal particularly for younger students who wish to learn more about America during the Revolution.