At a Glance
Description
What did women think of their work at home, in the arts, and in business?
Website
Producer
Harvard University Library Open Collections Program
Women Working, 1800-1930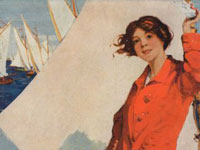 This site offers textual and visual historical resources for teaching, learning, and researching the history of women working in the United States. It currently includes almost 3,500 digitized books, 7,500 manuscript pages, and 1,200 photographs. Holdings include letters, diaries, scrapbooks, magazines, catalogs, photographs, books, and pamphlets (both non-fiction and fiction).
Visitors may browse through the "New Additions" area, look through materials by topic (such as home labor, arts, or business), search catalog keywords, or perform a full text search.