Digital Classroom Introduction
themes/teachinghistory/homevid/high_intro.mp4
video/mp4
Visit Digital Classroom to learn about new digital tools, ask questions, and watch examples of effective history teaching with technology. Explore the many possibilities:
Tech for Teachers: VoiceThread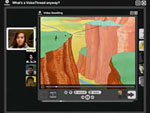 VoiceThread is a popular web-based tool for creating and collaborating on multimedia presentations, allowing you to combine images and video with text and audio commentary.
[...] »
Ask a Digital Historian: Beyond Google Searching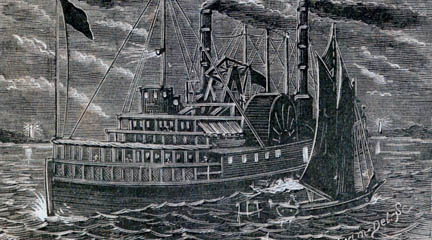 How can you find quality digital U.S. history images? It's harder than it looks, but keep reading for some good strategies.
[...] »
Beyond the Chalkboard: Using Facebook to Engage with Historical Figures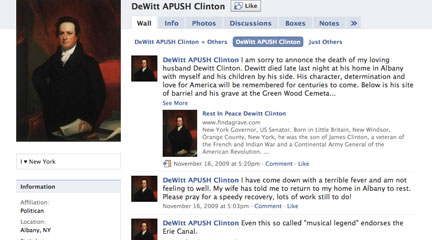 After researching historical figures, this teacher had students created Facebook Fan pages, hosting albums of images, detailed biographies, and continual status updates written "in character."
[...] »
(Download the video transcript
here
. You may also download the Digital Classroom rubric, either
completed
or
blank
.)
Tools & Resources in Digital Classroom Video

Image Credits

Visuals (in order of appearance):
Animoto Productions. Animoto. 2011.
Center for History and New Media. Historical Thinking Matters. "Rosa Parks." 2008.
Bringing History Home. "3rd Grade Photo Analysis Part 1." Sept. 10, 2010.
NASA. 'I Was Strolling on the Moon One Day.' Dec. 11, 1972.
Albany Institute of History & Art. Prod. by Time Warner Cable. "Videoconferencing Preview."
Voicethread. "Higher Ed from Della Curtis."
iCivics. Do I Have a Right?
Classroom of Loudoun County Public Schools.
Winchester Public Schools, classroom of Marti McKenzie.
American Social History Productions. The Lost Museum. 2002-2006.
Foundation for the National Archives. DocsTeach.
Pew Internet & American Life Project. "Change in internet use by Age 2000-2010." 2010.
Arafeh, Sousan et al. Pew Internet. "The Digital Disconnect: The widening gap between Internet-savvy students and their schools." Aug. 14, 2002.
Museum of the Moving Image. The Living Room Candidate. 2010.
Advertisement, Eastman Kodak Company. "Brownie Camera." 1900.
Social Explorer. Social Explorer. 2011.
Zimmerman, Susie. Bullis School. YouTube. "Using Facebook to Teach."
mickey@gearthhacks. "Pearl Harbor X (Overlay), December 10, 1941." Aug. 17, 2005.
Everist, Burton. Mindmeister. "Two Teaching Tools." April 2008.
Film Study Center. DoHistory.
Feinberg, Jonathan. Wordle. 2009.
ALTEC at the University of Kansas. Web Poster Wizard. 2000-2009.
Massachusetts Historical Society. Twitter feed "JQAdams_MHS." Jan. 21, 2011.
Lee, John. Ning account "Teaching with Digital History." Dec. 6, 2010.
Byrne, Richard. Free Technology for Teachers. Jan. 21, 2011.
Montgomery County Public Schools, classroom of Christine Valenti.
Montgomery County Public Schools, TAH professional development workshop.