At a Glance
Description
Deepen your coverage of the late 19th century with the letters of Ulysses S. Grant, war-hero-turned-president.
Website
Producer
Mississippi State University
Ulysses S. Grant Digital Archive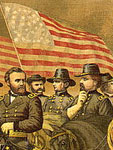 The largest public archive of Ulysses S. Grant correspondence to date, the collection includes letters, research notes, artifacts, photographs, and memorabilia. Topics cover Grant's childhood, military career, and experiences in the Civil War through his presidency and post-White House years.
The bulk of the collection is made up of 31 full-text searchable, digitized volumes of The Papers of Ulysses S. Grant. Edited by John Y. Simon, these volumes comprise thousands of letters spanning from 1837, just before Grant left for the Military Academy at West Point, to his death in 1885. The volumes also contain photographs, a chronology of the correspondence, and annotations.
In addition to the extensive Papers, the collection provides a sampling of digitized material from the U.S. Grant Association, including 14 multi-page compilations and 11 political cartoons from sources such as Harper's Weekly and Puck. Items include detailed, linked metadata to assist in tracking source provenance and connecting to related sources. Additionally, all items are keyword searchable and can be browsed by format, date, or title.