At a Glance
Description
What goes through the mind of a Nobel-prize winning chemist?
Website
Producer
Oregon State University Libraries Special Collections
Linus Pauling Research Notebooks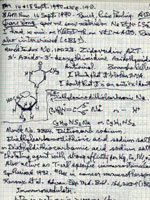 Presents 7,680 scanned pages of 47 notebooks kept by American chemist Linus Pauling (1901-1994) from 1922 to 1994. Pauling won two Nobel Prizes—for Chemistry in 1954 and for Peace in 1962—due to his involvement in campaigns for nuclear disarmament. Each notebook contains a contents index. In addition, the site provides a detailed alphabetical subject index that includes personal names. Notebooks offer many reprints of articles published by Pauling. The site also directs users to 23 selected highlights—pages relevant to Pauling's most significant work and to some autobiographical entries. Includes "An Open Letter to President Bush," dated January 1991, in protest of the Gulf War. Valuable for those studying the history of American science in the 20th century.