At a Glance
Description
Surf an animated timeline of Abraham Lincoln's life and times.
Website
Producer
Documents on Wheels
Lincoln Archives Digital Project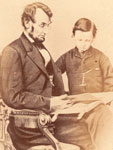 The private organization behind this website is in the process of digitizing millions of records from the Lincoln Administration (March 4, 1861, through April 15, 1865), drawing from collections at the National Archives; the State Treasury, Justice, and War Departments; and other federal offices and agencies.
These records include pardon case files, applications for Federal jobs, the papers of Generals Ambrose Burnside and Henry Halleck, records on the capture of Jefferson Davis and the John Surratt trial, and numerous telegrams and letters about all aspects of Presidential business, as well as maps, photographs, and newspaper articles.
Though the majority of these records are accessible by subscription only ($150/year for individuals, more for school districts and libraries), a few are freely available at the website: thumbnails of 35 photographs (most available in higher quality elsewhere), and roughly 50 political cartoons (too small to read).
More useful for the non-subscriber is the inclusion of 100-200 word descriptions of many of the newspaper publications included in the archive, as well as video footage of several scholarly conferences and presentations about Lincoln.
An interactive timeline of Lincoln's entire life is also included, interspersed with video footage of scholars discussing important events, as well as staged audio recordings of several of Lincoln's letters and speeches, such as a letter he wrote to Mary Owens in 1837 before she broke off their courtship.
For teachers, the website presents a list of 20 links to outside lesson plans covering many themes in Lincoln's life and Presidency.