At a Glance
Description
Follow the history of the Tacoma Narrows Bridge, from its completion in 1938 to its collapse in 1940 and its 1950 reconstruction.
Producer
University of Washington, Special Collections
History of the Tacoma Narrows Bridge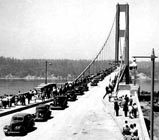 This exhibit documents the history of the Tacoma Narrows Bridge in Washington State from inception, in November 1938, to collapse, in November 1940, and eventual reconstruction in 1950. In 1940, the original structure was the third longest suspension bridge in the world. The bridge was initially referred to as "the Pearl Harbor of engineering," but the wavelike motion the bridge displayed soon earned it the nickname "Galloping Gertie." The exhibit divides the history of the infamous bridge into five themes--construction, opening, collapse, aftermath, and reconstruction--each with 15 to 30 photographs and newspaper articles accompanied by 50- to 100-word captions. A bibliography of more than 30 items rounds out this online exhibit and those interested in the impact of the bridge on the Gig Harbor Peninsula residents should visit the link Gig Harbor Museum. This is also a valuable site for anyone interested in engineering, aerodynamics, and Pacific Northwest history.