At a Glance
Description
More than 1,000 photographs from the history of the International Ladies Garment Workers Union.
Producer
Cornell University, New York State School of Industrial and Labor Relations
Kheel Center Labor Photos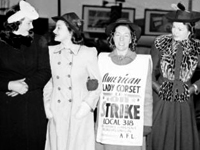 The International Ladies Garment Workers Union was formed in 1900, and for close to 100 years represented the interests of hundreds of thousands of workers in the women's-clothing industry. This collection of more than 1,000 photographs documents the activities of this union, which was particularly influential in the 1920s and 1930s. It includes scenes of workers in both the U.S. and Puerto Rico: at home and in shops and participating in marches, protests, celebrations, parades, and union actions. The various immigrant groups who have been involved in the industry, such as African Americans, Jewish Americans, Italian Americans, and Puerto Ricans are well represented. While some prominent labor leaders have been identified, most workers remain unidentified. The collection also includes five photographs by famed labor photographer Lewis Hine of New York street scenes from the early 20th century. More of the Kheel Center's larger collection of 33,000 photographs will be added to this website in the future.