At a Glance
Description
With over 126,000 photographs, maps, and other documents, this site offers a comprehensive look at the history of Los Angeles and southern California.
Website
Producer
University of Southern California, Information Services
USC Archival Research Center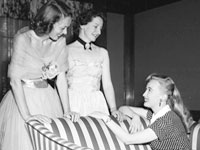 These varied collections document the history of Los Angeles and southern California. "Digital Archives" offer more than 126,000 photographs, maps, manuscripts, texts, and sound recordings in addition to exhibits. Nearly 1,200 images of artifacts from early Chinese American settlements in Los Angeles and Santa Barbara are available, as is the entire run of El Clamor Publico, the city's main Spanish-language newspaper from the 1850s. Photographs document Japanese American relocation during World War II and photographs, documents, and oral history audio files record Korean-American history. The archive also includes Works Projects Administration Land Use survey maps and Auto Club materials. A related exhibit, "Los Angeles: Past, Present, and Future", offers collections on additional topics, including discovery and settlement, California missions, electric power, "murders, crimes, and scandals," city neighborhoods, cemeteries, Disneyland, African American gangs, and the Red Car lines.