At a Glance
Description
An impressive array of tracts (and more) brought together for your convenience.
Website
Producer
Schoenberg Center, University of Pennsylvania
The Crisis of the Union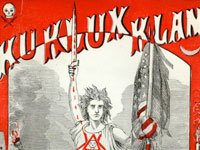 This archive contains material related to "the causes, conduct, and consequences of the U.S. Civil War." The collection contains more than 220 books, broadsides, cartoons, pamphlets, and other printed material from 1830 to 1880. The entire archive can be browsed by author, date of publication, title, or subject. Abstracts of the titles are available. Using a built-in viewer, each document can be viewed in its original format (or downloaded in PDF form), and visitors can zoom in or out.
Visitors may browse issues of William Lloyd Garrison's The Liberator, peruse the 1852 Proceedings of the Democratic National Convention, or view dozens of Thomas Nast cartoons. Finally, visitors can also search the entire archive by keyword, subject, graphic element, or date. Visitors looking for comprehensive Civil War, Abolition, or Reconstruction sites will find more complete collections elsewhere; but this site's convenience, as well as its collection of early-19th-century tracts, make this a valuable resource.