At a Glance
Description
What images does a state choose to describe its way of life to the nation?
Producer
Library of Virginia
1939 World's Fair Photograph Collection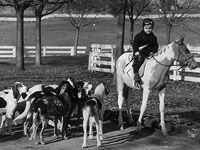 For the Court of States exhibit at the 1939 World's Fair in New York, the Virginia State Chamber of Commerce prepared a collection of albums containing more than 3,000 photographs on "twelve aspects of Virginia life: scenic tours; recreation; historic homes; culture; history; colonial archaeology; scenery and natural wonders; physiography; agriculture; education; government and the people; and industry, commerce, and transportation." These photographs are accessible according to 10 Library of Congress subject headings: geographic location, personal name, building name, historic subjects, and keywords appearing in bibliographic records. Useful for those interested in Virginia history or studying practices of historical memory.