At a Glance
Description
See what life on the homefront and at war was like for African American citizens.
Producer
National Archives and Records Administration
Pictures of African Americans During World War II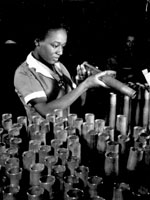 This online photograph collection, assembled to commemorate the 50th anniversary of World War II, illustrates African-American participation in the war effort. Approximately 2.5 million African American men registered for the draft, and African-American women volunteered for the military. The 261 images in this collection, drawn from the National Archive collections of photographs from the Army Signal Corps, the Department of Navy, Coast Guard, Marine Corps, and the Office of War Information, depict African Americans in military training, in combat, and on the home front. The photographs are grouped according to the five military branches and by six subjects: Merchant Marine; Women in the Military; Training; Rest and Relaxation; Personalities; and Homefront. While the separate photograph and finding aid sites make the collection a bit complicated, the site is helpful for those who are interested in 20th century African-American history or World War II history.