At a Glance
Description
Read about Wilbur and Orville Wright's triumphs and setbacks as they experienced them.
Website
Producer
American Memory, Library of Congress
Wilbur and Orville Wright Papers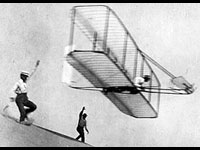 This site highlights Orville and Wilbur Wright's pioneering aviation work that led to the world's first powered, controlled, and sustained flight. The collection contains approximately 49,000 digital items, including correspondence, diaries and notebooks, scrapbooks, drawings, printed matter, and 300 glass-plate photographic negatives. The papers cover the years 1881-1952, although the years 1900-1940 are especially well represented. The diaries offer detailed records of the brothers' ideas, as well as their successes and failures; and photographs include the first flight, taken at Kitty Hawk in December 1903. The materials are particularly valuable because the brothers so carefully documented their work and ideas, and because they corresponded so often with members of their family.
The site includes a Wright Brothers timeline and a Wright family tree. This site would be of particular use to anyone interested in the Wright Brothers or the history of flight, but is also useful in examining the role of photography in history and invention.